Part of enjoying any wine region is to experience the local foods and cuisine and this is exactly what I over indulged in when at one of my recent visits to Valdobbiadene in the DOCG Prosecco region of Italy. Very much so, when in Italy, you are spoilt for choice on fine local foods from cheese to ham, pasta to fish.
Working in the world of wine you need to travel far and wide to explore the many fine sparkling wine regions of the world and this normally means staying at hotels and dining out and during a recent visit to the Valdobbiadene region as guest of Villa Sandi I was very fortunate enough to spend a few nights at Locanda Sandi which is a wonderfully located restaurant and hotel with magnificent views out towards the sloping hills full of vines and the commencement of the Dolomites.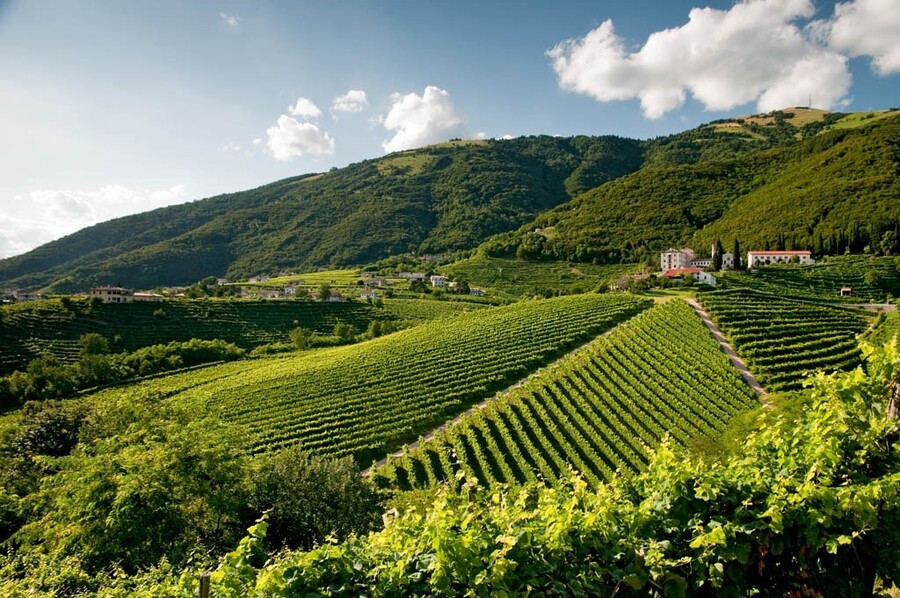 Wine tours are always a busy exercise, it is very rarely just visiting a winery and instantly sitting there whilst someone pours out wines for you to taste, normally the wineries are at a fair drive away from each other and then your visit will incorporate a tour of the vineyards and introduction to the vines and ground / earth they grow on. You will also likely visit the winery and have an educational explanation on how their wines are made via steel tanks, wine barrels, second fermentation techniques etc. Then lastly, as you pack your camera, note book and pencil away, you are then on to tasting the wines and likely to also take notes on each and write down your reviews, or least if you are like me, you will update your Vivino account with tasting notes. It is for this reason that come evening time, as you will likely be visiting a few wineries a day, you are looking forward to getting back to your hotel room and relaxing over dinner.
Valdobbiadene region is one of the finest sparkling wine regions of the world, it is a wealth of magnificent wineries and offers out some of the most splendid views for those seeking wine tourism pleasures. Situated in amongst this dreamy location is the Locanda Sandi where not only the rooms are well designed and relaxing, the food also is of very high standards and it holds a great wine list for anyone wishing to know more about the wines from the local region. The venue is part of the Villa Sandi estate, so it comes as no surprise that most of the wines on the list, including the Prosecco Superiore and Cartizze, are from themselves, but to be honest, this alone gives you a great insight in to regional wines as they produce a comprehensive selection to chose from including reds, whites, Prosecco DOC and DOCG.
What the staff know very well there is to pair the wines with the menu so can be assured that each course you order will come with great wine to accompany. You can over indulge yourself now as you are seated either outside with magnificent views or inside, mostly during the colder evenings, where there is an open fire roaring away cooking the meats as you dine.
I will not go through the whole menu as it undoubtedly changes, but I was very impressed with the mozzarella starter made from Buffalo milk and the main course of local tagliata di filetto (fillet beef) which I paired with the Villa Sandi Opere Trevigiane Serenissima DOC and Corpore Merlot respectively.
Coming down from your bedroom after a good night sleep (yes there is wifi) you are then welcomed by breakfast timewhich is so relaxing at Locanda Sandi as it is just so peaceful and if you are lucky enough that the weather is sunny and warm you can sit out on the terrace and enjoy your coffee with the morning views out over the hills and mountains – For me these moments were the highlight of Locanda Sandi… Breakfast time will never be the same again!
I would certainly recommend stopping at Locanda Sandi if you are in the area, be it for something to eat or for a night stay, you will enjoy much of what I did and will take away warm memories – This is a location set in the heart of a wine region, wine is a plenty for you to choose from and you will savour special moments.
Credits: Glass Of Bubbly